The Discipler's Toolkit
The Discipler's Toolkit takes you on a step-by-step journey from evangelism to establishing new believers in the faith, equipping them in spiritual disciplines and gifts, and sending them out to engage the world with the gospel.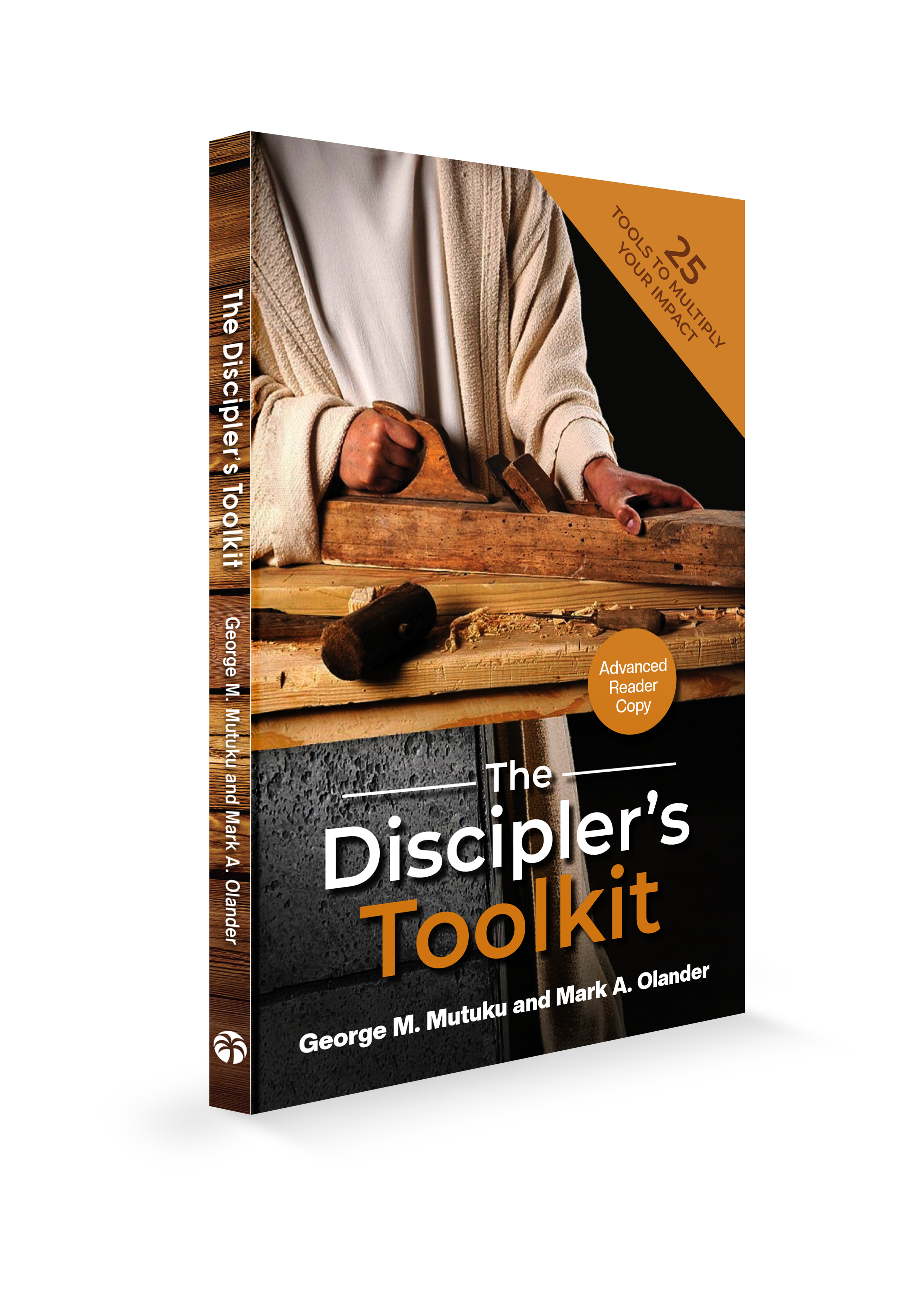 If you're a disciple of Jesus, he's told you to "go and make disciples of all nations." This is a commission, not just a suggestion! But disciple-making is often easier said than done.
For African countries, discipleship is an especially pressing concern. Widespread evangelism has led to the incredible growth of Christianity. But evangelism is only the beginning of the disciple-making process. In The Discipler's Toolkit, Mutuku and Olander take you on a step-by-step journey from evangelism onwards, walking you through the discipleship tactics of Jesus himself.
In this book, you will learn how to:
Enrich your evangelism efforts
Follow up with new believers
Equip disciples for ministry
Get disciples involved in the mission field
Leave a legacy of lasting spiritual change in the lives of those around you
Whether you make disciples at a congregational, small group, or individual level, The Discipler's Toolkit will answer your questions and give you wise practical advice. As you read and apply its teachings, God's Kingdom will advance throughout the world and souls will become safe in heaven for ever.
George Mutuku, his wife Ruth, and their three children reside in Nairobi, Kenya. George earned his PhD in Biblical Studies at Africa International University. He is the Director of the Disciple Making in Africa Initiative. George also serves as the pastor of Christian ministries at the Africa Inland Church Ngong Road in Nairobi, and is a part-time lecturer at Africa International University.
Mark Olander and his wife Jan have two adult children. He taught in South Sudan for two years before they came to Kenya in 1984. Mark earned his PhD in Educational Studies at Trinity International University. He has taught at Scott Christian University, Moffat Bible College, Columbia International University, and Africa International University, where he is currently an adjunct faculty member in the Education Department.
Jesus left his followers with only one assignment: making disciples! Olander and Mutuku provide disciple makers with a ready-to-use simple resource. Their genius is that they draw examples, lessons, and reflections out of their rich store of experience in doing discipleship in the African context, both as disciple makers themselves and as long-term trainers of disciple makers in this context. I recommend this resource as the number one carry-on for pastors, ministry trainers, mentors, evangelists, lay leaders – for every believer who desires to obey Jesus's great commission confidently in the 21st century on this continent, and everywhere else. —Rev Mike M. Mutua, College Principal at Pwani International Christian College and Bishop of LifePoint Ministry Kenya
This is an outstanding book on being and making disciples. It is quite comprehensive, very biblical, and reflects the authors' commitment to making biblical disciples. It covers the life and discipleship ministry of Jesus Christ and includes a good section on how to follow up a new believer. Each section has an important reflection task. The book makes an excellent classroom textbook. I hope that the book finds a very wide readership as the authors follow Jesus's command to go into all the world and make disciples. —Rev George Janvier, Distinguished Professor of Education at Jos ECWA Theological Seminary
The Discipler's Toolkit deserves to be in the hands of every serious Christian and church leader in Africa. This well-researched and practical book is rooted in Scripture and covers the whole spectrum of discipleship. It is filled with African stories, diagrams, numerous suggestions of how to make disciples, and "stop and reflect" questions. —Dr Richard J. Gehman, former Principal of Scott Theological College
Being a Christian is not just about attending church, singing, listening to a good sermon, and praying. It involves daily and intentionally following Jesus. Church growth should not be confused with growth in numbers; it is about converts becoming disciples through daily following Jesus. The Discipler's Toolkit meets this need for discipleship for the church in Africa. I wish I had read it when I began pastoral ministry about three decades ago. I recommend it for all serious African pastors. —Rev Kioko Mwangangi, Pastor in the Africa Inland Church
A wonderful and timely reminder that God has the answers to every question. This is an antidote for discipleship frustrations. Enlightening and highly readable, The Discipler's Toolkit thoughtfully explores the mystery of divine wisdom and skills needed for world-class evangelistic exploits. This book is a compendium of resources for a stress-free soul-winning and discipleship adventure. The arrival of this book is a great news. —Pastor Felix Fahuwa, lead pastor of Kingdom Promises International Ministry, Lagos
In faithful obedience to Jesus's Great Commission, this book is an essential step-by-step guide that is easy to follow and adapt in disciple making. It awakens and fans a zeal for discipling and perfecting the skills for that vital ministry. The methods, illustrations, and examples presented in the book are clear and applicable everywhere on Earth, especially in Africa. I recommend it fully. —Rev Dr Nathan Nzyoka Joshua, Lecturer in Biblical Studies at Africa International University, Nairobi, Kenya