No voice can speak more powerfully to the unique issues and challenges of the church in Africa than African voices. Oasis discovers, develops, and distributes books by authors who speak clearly to African contexts.
Western marriage books don't address dowries, polygamy, extended family expectations, or inter-tribal marriage because they are not issues for western church. But believers in Africa know these challenges well.
The global church has much to learn from African perspectives. Everyone is finding fresh insights on familiar passages in the Africa Study Bible. In the body of Christ, each part needs the others. African authors can teach believers around the world something new about topics like spiritual warfare, the false allure of the prosperity gospel, and God's covenant with his people.
How Our Publishing Program Works
Discovering African Voices

Western authors like John Maxwell, Joel Osteen, and Joyce Myers, fill the shelves of African bookstores. But few books by African authors, addressing the daily realities facing local believers, can be found. Yet, according to a recent study, African readers have strong desire to read books by Christian authors in Africa.

 

"Prayer is not a vending machine," proclaimed a village preacher.

As a young man, Dr. John Jusu, Supervising Editor of the Africa Study Bible, listened with curiosity and confusion to a village preacher. No one had any idea what a vending machine was!

"This village preacher was preaching God's Word, but he was preaching out of texts that were written in the West," says Jusu.

To many Africans, the Bible often feels like something they cannot understand, because it is explained to them using language and contexts that do not match their daily lives.

Oasis identifies authors through our network of 350 ASB contributors, recommendations, or Christian gatherings. Our publishing team are constantly looking for new authors with a message for the Church in Africa with the possibility to impact the world.

Our goal is to release one new book a month, and at any one time as many as twenty books are being evaluated, written and edited, whose authors are drawn from up to ten African countries.

While these communicators are experts on their subjects, most are first-time book authors. Their lack of experience, as well as the influence of the oral cultures that predominate in Africa, can make the development process longer compared to other regions of the world. Our publishing team coaches the new authors through the editorial process, from concept to published book.

"My passion for working with authors comes from growing up in East Africa as a missionary kid. I made a decision to follow Christ through a book about a Tanzanian boy encountering Jesus – exactly the kinds of books I now help create! I've seen the struggle to address African realities with ill-suited Western tools and the need for African Christians to share their wisdom."

– Hannah Rasmussen, Acquisitions Editor, Oasis International

African authors often lack access to professional editorial and design services. Some self-publish, but only manage to distribute their books at speaking engagements or to a few online readers within their country. Others are daunted by the solo effort and cost of self-publishing and end up never printing their books. Oasis is working to change this reality. Oasis authors receive:

Expert advice on shaping their message for print
Advice on developing their craft as writers
Strong editorial support from the start to the finish of the book
Theological and cultural review
Professionally designed interiors and covers
Royalty income
Marketing support

Oasis believes there are many African voices waiting to be heard, to help disciple the Church in Africa – and around the world.

No matter how good a book is, it must be read to accomplish its goal. Oasis works with local distributors and bookstores across the continent to ensure that these important works reach their intended audiences. We are committed to creating a sustainable model for publishing in Africa, one that empowers authors and distributors as they provide resources to the fastest growing segment of the Church in the world, both on paper and with digital delivery.

Africa has unique challenges in often under-developed infrastructure, difficult border crossings, armed conflicts, and level of economic development; as well as the particular impact of its rich, oral cultures. Oasis is developing relationships in Africa and around the world to ensure that:

Books are available as broadly as possible on paper and digital format
Prices are affordable
Authors and distributors earn fair income
In the long run, Africa will have a self-sustaining, Christian, publishing industry

 
If you are an author who would
like to publish with Oasis
If you are a distributor and would like
to carry books and Bibles from Oasis
If you would like to help
support publishing in Africa
For a full catalogue
of our books and Bibles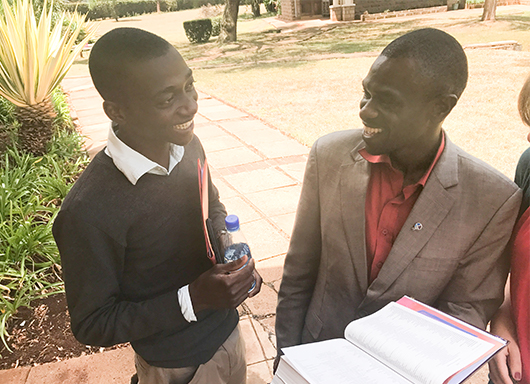 "The published works of Oasis are scratching where the African is itching spiritually."
–Dr. John Jusu, Supervising Editor of the Africa Study Bible