Parenting With Purpose & African Wisdom
Parenting With Purpose & African Wisdom is a relevant, thoughtful presentation on the characteristics of parenting that delivers results.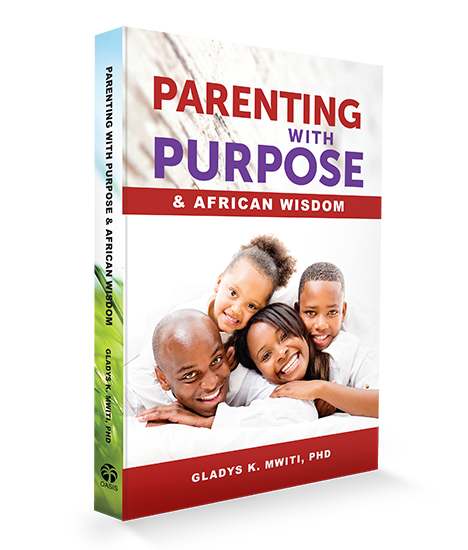 Parents want the secret to how to take a new-born and grow them into a responsible, godly adult. In reality, there is no "secret". Raising children successfully takes purposeful passion, focus, and commitment. Gladys Mwiti, PhD takes the reader through twelve characteristics for purposeful parenting, showing clear examples from both her own experience and case studies of others in all different social and economic circumstances. Partnerships with those in the community are stressed to help open the growth of a child in a manner that God desires.
So, while this book is not a "recipe for success" in parenting, it will provide you with the principles, that when practically and purposely applied, will not only change your family, but families for generations to come.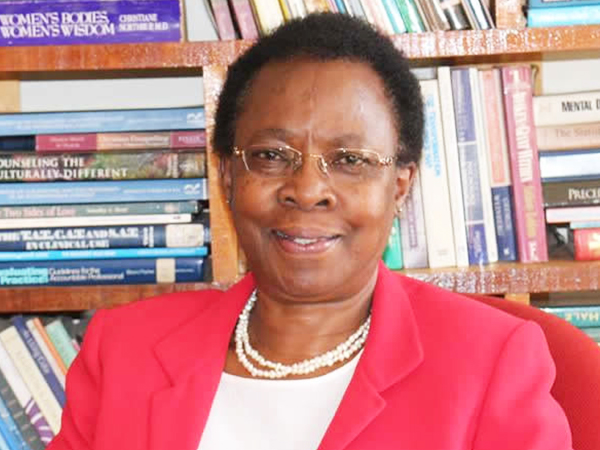 Dr Gladys K. Mwiti, PhD is a professional and well-practised Consultant Clinical Psychologist and Psycho-Trauma Specialist with over 20 years' experience, in the field of mental health in Africa and the USA. She is the Executive Director of Oasis Africa - a professional psychosocial organization that she and her husband Dr. Gershon Mwiti, founded in 1990. She is also the Chairperson of the Kenya Psychological Association, Interim Chairperson of the Kenya Society for Traumatic Stress Studies, a member of the American Psychological Association, and member of the Board of Directors for the International Society for Traumatic Stress Studies. She has a PhD in Clinical Psychology from the Graduate School of Psychology at Fuller Theological Seminary, Pasadena, CA; a Masters degree in Christian Leadership from Fuller's Graduate School of Theology; a Masters degree in Counseling Psychology and a Bachelors degree in Psychology both from the United States International University, Africa in Nairobi; and an Approved Diploma in Education from Kenyatta University, Nairobi, Kenya. In addition, Dr. Mwiti is the author of five books and a published author in various journals.
There is a need for books on upbringing and parenthood, especially books which do not simply hand out problem-oriented advice. Gladys Mwiti's Parenting with Purpose and African Wisdom is a book of this special quality, opens up a wide space for parents and children, and bears all the signs of her professional, scientific, and also human competence. As a European, I was of course excited and curious about what I could learn here from "African Wisdom". A great deal! Not only the typical proverbs at the beginning of each chapter: the whole book breathes Africa, family, and far-sightedness. That is very good! I will recommend the book in Europe. Looking beyond one's own garden fence is something we need. –Werner May, President of the European Movement for Christian Anthropology, Psychology and Psychotherapy and the Publisher of the Free e-Journal Christian Psychology Around The World
Parenting with Purpose and African Wisdom is one of the best books on parenting I've read. The African wisdom in this book will benefit non-Africans as well as Africans. I was particularly struck by the author's insight on the need for fathers to mentor their sons to become men - the missing Gaaru. That's a message that needs to be heard in the West as well as in Africa. Parenting with Purpose and African Wisdom is practical, direct, helpful, compassionate, and biblical. I recommend it most highly. –Larry Stone, former Vice President of Thomas Nelson Publishers, President of Rutledge Hill Press, Editorial Manager of the Africa Study Bible, author of The Story of the Bible, father, and grandfather, USA
Parenting is getting challenging every day and both parents and children are losing hope. Parenting with Purpose and African Wisdom will instill hope in a unique way. Dr Gladys K. Mwiti has blended the Bible, psychology and African wisdom to provide guidance in parenting. With these three, there's hope for generations to come. –Mrs. Rahab Mwangi, MA Counseling; Director, Chara Care and Counseling, Kenya
Dr Gladys Mwiti has written a book for all seasons on parenting, an increasingly challenging social phenomenon in contemporary times. A tour de force, Parenting with Purpose and African Wisdom is predicated upon expert psychotherapy and family counseling and contains key elements of African wisdom, spiritual integrity, and contextual realities. I strongly endorse the book as an instructive companion for any and all involved in parenting in all its aspects, and highly recommend it as essential reading for parents, teachers, counselors, and spiritual guides seeking to be relevant in parenting matters. –Rev. Dr. Samuel Kobia, Chancellor, St Paul's University, and Senior Advisor to the President of the Republic of Kenya on Cohesion, Peace and Conflict Resolution, Kenya
Parenting with Purpose and African Wisdom is a most compelling, insightful and exciting title on parenting grounded in the African context. A must read for all prospective and new parents across generations and cultures. –Prof Margaret Kobia, PhD, CBS, Chairperson, Public Service Commission and Associate Professor of Management and Entrepreneurship, Kenya
Parenting is a discipline in which children find their identity, security, memory, hope, and responsibility. In this light Dr Gladys Mwiti provides thoughtful ideas in Parenting with Purpose and African Wisdom, reminding us that each parent should endeavor to do their best while partnering with God in order to pass on lasting legacies. Her extensive experience in counseling parents and their children plus her value-based training in Clinical Psychology make the book a suitable manual for all parents. –The Most Rev. Dr. Eliud Wabukala, EBS, Archbishop of Kenya & Bishop of All Saints Cathedral Diocese
Gladys Mwiti manages to integrate modern science and traditional wisdom. There is much to be learned from both, not only African readers can profit greatly from the knowledge and experience that has been developed from generation to generation, as from Western scientific knowledge. An important and helpful book for everyone parenting, educating, or teaching children! –Prof Dr Ulrich Giesekus, Psychology and Counseling, Liebenzell International University, Germany
Dr Gladys Mwiti covers all the important and key aspects of parenting, giving young mums like myself practical and solid advice on how to tackle the often confusing and sometimes lonely journey of parenting. It's a joy to read. Her ability to weave in African wisdom and spiritual faith adds more gravitas to her words and down-to-earth advice that will become a great reference time after time. If you want to become the best parent possible, read this book! –Neva K. Read, Author; Founder and CEO, Afya Organics Pty Ltd. Sydney, Australia
Parenting with Purpose and African Wisdom is a very informative, practical and much-needed resource for parents and all resource persons working with parents and children in today's multifaceted and complex society. The author draws from her extensive professional counseling practice, Christian principles and African traditional childrearing practices.–Amb. Prof. Ruthie C. Rono, Deputy Vice Chancellor, Academic Affairs. United States International University, Africa, Kenya
We should not be surprised that this tremendously practical, helpful, entertaining, and encouraging book on parenting with purpose is written by a strong Christian wife and mother who was raised in a simple Kenyan village by an amazing mother she describes as illiterate, purposeful, and confident. As a young girl, Gladys Mwiti did her homework by lamplight in a four-room house with a corrugated tin roof and mud walls and has now become an internationally respected and loved author, speaker, psychologist, and CEO. This parenting book is rich in wisdom learned through scripture, African proverbs, and Gladys's keen observations of what has worked in her life and in that of others. Many books focus only on the day-to-day challenges of parenting. But Gladys shows us how our parenting tactics can flow from our long term purpose as parents. That purpose is captured in the question, "What kind of person does God, the Creator, desire my child to become?" –Bradford M. Smith, Ph.D., Lausanne Movement Catalyst for Global Mental Health and Trauma Response, and Director of the Institute for International Care and Counsel, Belhaven University, USA
One of the tragedies of our time is the diminishing emphasis on value systems that define the present and future of any society. If our children represent the future we look forward to, there is need more than ever before to rethink our priorities as parents as far as our children are concerned. Dr Gladys Mwiti captures this obligation in her compelling book on parenting by drawing invaluable wisdom from her Christian, professional, and family background. The church in particular needs to embrace the contextual approach employed by Dr Gladys Mwiti in developing culturally sensitive approaches to ministry that employ the fusion of Christian witness and biblical cultural values. The book is a blessing to not only the Christian reader but to the society at large.–ìRev. John Maromba, Superintendent Minister, Lavington United Church, Nairobi, Kenya