The Divorce Dilemma
Equipping You to Minister with Grace and Truth
In The Divorce Dilemma, Rev Dr Ron Misiko and Rev Dr Ray Motsi share their experiences as pastors and as married people, as well as their areas of expertise in the legal system and Bible scholarship. From their different African contexts, the authors explain how to navigate the challenges we face today. With the help of this practical handbook, you can become a champion for God's grace and truth about divorce in your community.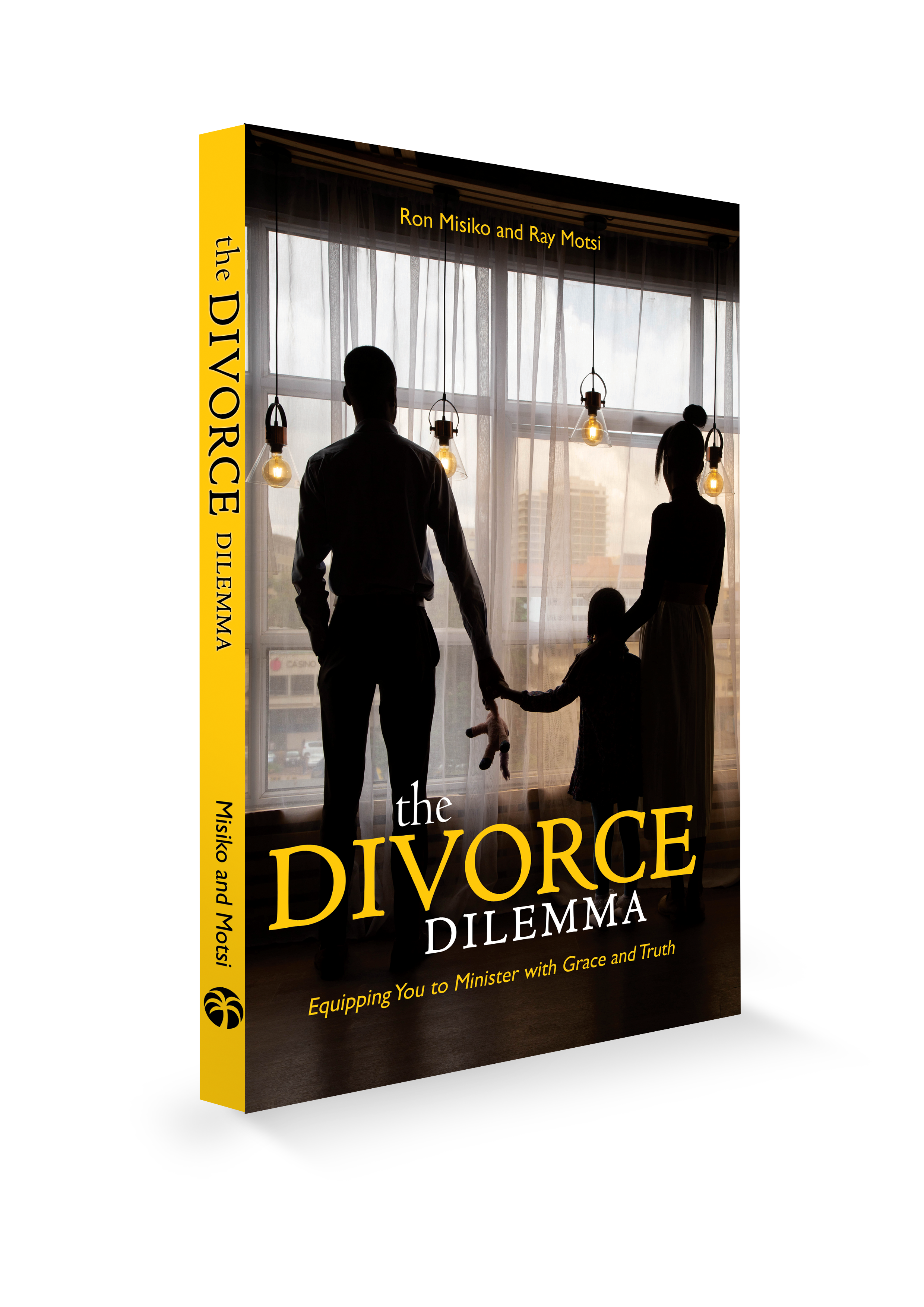 Divorce is rising throughout Africa. We are seeing broken marriages leave families in pain. The church faces a dilemma. We are not sure how to connect what the Bible says with the person in front of us. We may be afraid of saying or doing the wrong thing, so we avoid talking about divorce at all.
But divorce isn't going away. Instead, struggling people are going away, fearful or frustrated about turning to Christians for help. How can we respond as the body of Christ? Two wise church leaders share all they have learned in a practical handbook, The Divorce Dilemma.
Their book will equip you to understand what the Bible says, what divorced people go through, and what Christians can do to navigate these challenges with God's grace and truth.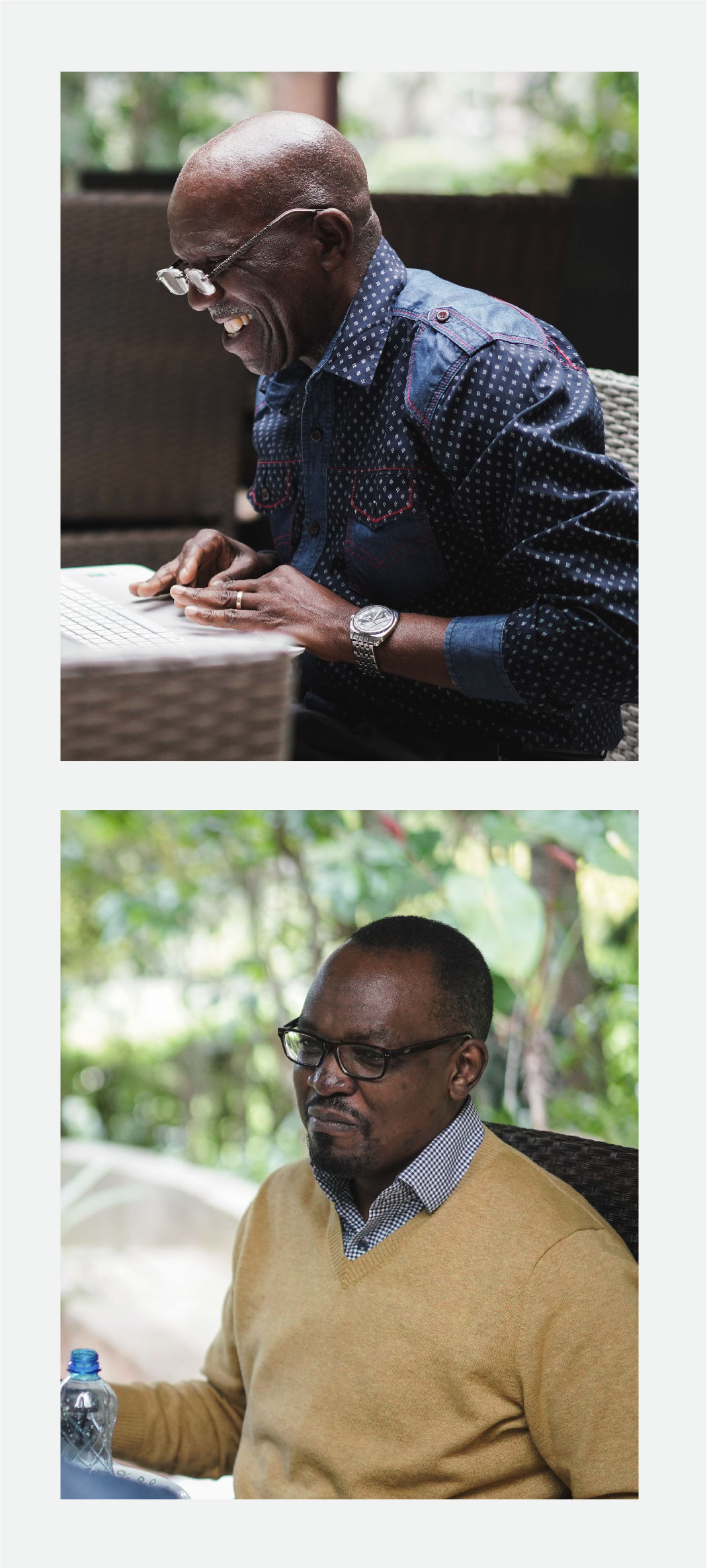 Rev Dr Ray Motsi is the President of the Theological College of Zimbabwe and has been a Baptist pastor for over 20 years. He has a BA in Practical Theology, an MA in Old Testament and Hebrew, and a PhD in Peacebuilding, Conflict Resolution and Trauma Healing. He founded Grace to Heal, a faith-based organization focusing on community peace-making and conflict resolution. He has been through marital difficulties and seen biblical principles transform his marriage, as well as couples he has counselled. Motsi brings Old Testament, cultural and conflict resolution perspectives to The Divorce Dilemma
Rev Dr Ron Misiko has a growing reputation in Kenya as someone who is willing to talk about divorce and has solutions to address it. When he has shared his heart for divorce, the response has always been that this is a highly relevant topic that ministers are struggling to address. His passion for divorcées grew out of his 12 years pastoring Karura Community Chapel, a thriving church in Nairobi. For his DMin, he did multi-disciplinary research on a biblical and pastoral response to divorce for the church in Kenya. As an Advocate of the High Court of Kenya trained in mediation, Dr Misiko also shares insights from his legal expertise in The Divorce Dilemma
This informative book expresses deep, compassionate, pastoral sensitivity and practical wisdom. Beautifully and movingly written, grounded fully in both Scripture and knowledge of a range of African cultures, it says things that have very much needed to be said. —Prof Craig S. Keener and Dr Médine Moussounga Keener, Professor of Biblical Studies and Pastoral Care Coordinator at Asbury Theological Seminary, USA
The treatment of this difficult subject is wonderfully realistic and honest. The authors' rich experience in both pastoral ministry and in law grounds the book in real life. This is not a disembodied, theoretical study. In its many stories, one feels the heartbeat of hurting people. It addresses social settings and cultural practices, and the hostility or silence of local churches. All of this is submitted to the scrutiny of biblical teaching on divorce without being simplistic or trite. The local church has a unique opportunity to minister to hurting people who need help, guidance, and non-judgemental support in the name of Jesus, so they may experience the transforming love of God. This book is a catalyst for discussions and new ministry opportunities. Take it! —Dr Bill Houston, Overseas Council (USA) and John Stott Ministries
Divorce has become a reality even among Bible-believing Christians.To deal effectively with rising divorce rates, one has to examine the socio- cultural context of marriage, gender-related issues, and the influence of media and globalization. The authors' research seeks to educate and to prevent divorce. They also teach couples necessary coping skills for conflict resolution communication. Those already divorced can find help to pick up the pieces. African pastors, teachers, and counsellors will find the book very useful. I heartily recommend it. —Rev Dr Fred Deegbe, former General Secretary of the Christian Council of Ghana and Senior Pastor of Calvary Baptist Church, Ghana
I wish I could have read this book 15 years ago when a colleague retorted, "Has any of you seen a death certificate endorsed: 'Death due to leaving a marriage'?" We were commiserating on the hollowness of divorce settlements and even victories in court in situations where the parties had become enemies. We laughed off this comment, but it stuck with me how many people I had seen spiritually die after their marriage fell apart, and then continue to have legal, social, and even psychological problems because divorce had uprooted them from God and the church, when they most needed spiritual sustenance. This is a timely book, calling the African church to a more inclusive and caring fellowship. Written in a language and tone that embraces, it offers a much-needed calmness in our chaotic world. —Prisca Dube, legal practitioner and gender activist with Zimbabwe Lawyers for Human Rights, Bulawayo Office
This important book biblically and contextually helps preserve the sanctity of marriage, while helping those experiencing the pain and agony of divorce. Dr Motsi and Dr Misiko have produced a masterpiece to guide us. They expertly use their pastoral, academic, professional, and juridical knowledge to blend African background and today's real-life struggles with profound biblical analysis to help God's people navigate the perilous phases of divorce. The authors move the reader from the agony and despair of divorce through a loving journey to regain hope, redemptive life, and peace in Christ. The book may lead you to reconsider your theological or denominational position. It may affect your church's ministry and give hope and life after divorce. I endorse this book as a requirement for African pastors and lay church leaders. I am thrilled God has given us such an important tool when we need it most. —Dr David Kasali, President of the Congo Initiative, DRC
How do we address divorce without condoning it and yet without allowing people to abuse their spouses who are created in God's image? The authors integrate pastoral care, biblical teaching, and African traditional values to address this difficult topic. Their pastoral experiences in Kenya and Zimbabwe, their orthodoxy in studying biblical passages related to divorce, their examples of real cases they have counselled, and their art of narrating using stories to illustrate key statements are all points that make this book real and make the reader feel at home. This is a must-read for Christian couples, a ministry tool for pastors of local churches, and a textbook for students in theological and Bible schools. —Dr Faustin Ntamushobora, President and CEO of Transformational Leadership in Africa, Rwanda
Culturally relevant, biblically balanced discourse on divorce. Divorce is one of the most divisive realities of living in this broken world. Dr Misiko and Dr Motsi offer options for grace-based responses to divorce for church leaders and caregivers. Couples impacted or contemplating divorce will find practical solutions for approaching this most complex and painful experience that is now a reality in the African church and society. —Rev Dr Dennis Tongoi, Founding Director Emeritus of CMS- Africa, Kenya
Authentic African response to divorce in the church! With measured humility and deep concern for families, Dr Motsi and Dr Misiko draw principles from their ministry successes and challenges to address divorce, an increasingly prevalent yet neglected subject in the African church. This book is a must-read for all who care about marriage, an institution God established to sustain humankind and demonstrate his love to all. —Dr Emmanuel Bellon, Vice President of Scholar Leaders International
It is almost impossible to justify the richness of this book in just few lines. It is authentically African, biblically grounded, and compassionate to the hurting. If you are a pastor, this book will give you tools to support couples in your church before, during, and after divorce. If you are married, this book is like a compass to a sailor, giving direction to your marriage. If you are not married, this book is like a brush to a painter, giving bright colours to light the path of your marriage. —Rev Dr Kilama Dennis, Deputy Vice Chancellor of Africa Renewal University and Senior Pastor of Lugogo Baptist Church in Kampala, Uganda
The topic of divorce in Africa is seldom canvassed in the open. It is treated as shameful and taboo, especially among Christians. Dr Misiko and Dr Motsi have broken the silence around this very delicate subject and have handled it with exquisite care. They have treated the subject with theological balance from a modern African perspective. Having known Dr Misiko for over 20 years, I have noted his love and godly concern for people traversing the very difficult and crooked path of relational malaise. In this book, his love and concern shines through some very hard discussions around divorce and God's perspective. This book is a must-read for church leaders across Africa. —Pastor David Obuki, Senior Pastor of Kileleshwa Covenant Community Church, Kenya
The Divorce Dilemma unveils compelling realities about how the pressures of modern society have destroyed the traditional society that once offered strong communal structures designed to keep families together. The authors pour out their hearts and stress how the church can rescue the situation by providing profound models for the healing and salvation of the marriages in our contemporary society: through communal structure, moral clarity, and strengthening individual abilities. I highly recommend this book to pastors, marriage counsellors, and Christian men, women, and youth. It is useful for Bible study, teaching and preaching, to deepen understandings of marriage and rescue families. —Rev Dr Gopar Tapkida, Zimbabwe country representative for the Mennonite Central Committee and Director of Africa Peacebuilding Institute
Two brilliant minds provide biblical and contextual ways of equipping God's people to handle the emotional catastrophe – and often the legal nightmare – that the unfortunate situation of divorce brings. Using real-life stories from their experiences, the writers have not only helped those going through the ruin and heartache of divorce, but have also helped God's people and community who are charged with the divine responsibility to provide a place of comfort, consolation, and reconciliation for those in these dire situations. A must-read for those who care. —Dr John Jusu, Overseas Council Regional Director for Africa, Africa Study Bible supervising editor
Rarely does one find a book written in Africa for Africa with such compassion and cultural sensitivity, combined with a deep understanding of the biblical perspective on a topic as controversial as divorce. The Divorce Dilemma handles issues that many pastors and Christian leaders would rather avoid. The authors bring to the surface the ripple effects of unstable marriages on families, the church, communities, and society, and carefully look at what Scripture has to say. A must-read for every pastor, married couple, single, and anyone wanting to stand in the gap to uphold the God-ordained institution of marriage. A very useful resource for those trying to navigate the difficult aftermath of divorce and find their rightful place in the church, society, and most importantly before God. —Dr Priscilla Adoyo-Maritim, Vice President of Academic Affairs at International Theological Seminary, USA
It was my privilege to supervise Dr Misiko's doctoral research. His rigorous research and careful study of Scripture laid the foundation for the book. Dr Motsi broadens the scope by contributing the perspective of the evangelical community in southern Africa. The purpose of the book is not to condemn, but to provide godly wisdom and pathways toward healing for those devastated by the tragedy of marital conflict and the silence of the body of Christ. African pastors are seeking guidance in addressing the volatile issues that surround divorce. Significantly, this book is written by two distinguished African Christians in Africa for Africa. Its wisdom, if applied, can transform the ministry of local churches from into centres of healing and reconciliation in Jesus's name for all involved in the crisis of marital conflict. —Dr George Renner, Nairobi Evangelical Graduate School of Theology, Kenya
Dr Misiko and Dr Motsi capture the reality of "a society awash with confusing messages about sex and marriage". Based on 19 years of congregational leadership, I can attest that we are in the middle of a divorce crisis. Men and women in my congregation suffer broken marriages and not much has been available by way of help. This book is a timely and practical resource for the church in Africa. I highly recommend it for church leaders and members, marriage ministries, small groups, and men's and women's ministries alike. —Rev Dr Linda O. Adolwa, Executive Director of Hatua Trust, Kenya
Dr Misiko has approached this most difficult subject in the same way I have known him to approach every aspect of his interactions and relationships: with empathy, thoughtfulness and a deep and searching investigation into what the Scriptures teach us about how our Lord Jesus Christ would have wanted us to think and act. I commend this book to everybody who is truly interested in the institution of marriage. —John M Ohaga, Senior Counsel, Managing Partner and Co-Head of Dispute Resolution at Triple OK Law Advocates, Nairobi, Kenya
I endorse this book for three reasons: First is the credibility of the writer, Dr Misiko. We have known each other since his youth, and his walk both in and outside the church is consistent. What he recommends for others is what he practices. Secondly, I endorse the book because it dares to go where many in Africa dare not. We generally do not admit that divorce has already become rampant among us, nor are we willing to admit we do not know how to deal with those in our church who have remarried. The writers of this book have faced the issues squarely. But they also dare to say controversial things. Even if you might not agree with them, it will force you to rethink your stand. Thirdly, the writers seek to be thoroughly biblical. Even where you disagree with them, it will be on interpretation, not because they say what is not in the Bible. I think every marriage counsellor, pastor, and married person must read this. It should also be compulsory reading for single people before marriage, so they enter marriage knowing it is one-way traffic.—John N. N. Ng'ang'a, author of Longterm View of Marriage
What do a dedicated African Christian attorney and an experienced pastor do when facing the alarming issues of divorce and remarriage on the African continent? They write this book! The authors' personal experiences in dealing with couples and church members are worth far more than the price of the book. The issues are tackled with cultural sensitivity without sacrificing their deep commitment to scriptural authority. The reader will find practical advice on ministry to youth, children, and single adults; ideas for contextualizing traditional rites of passage such as solemnizing marriage; and details on how to work through the labyrinth of legal divorce processes. The authors believe God is at work bringing restoration, reconciliation, and redemption. —Dr Robert Hicks, author of The Christian Family in Changing Times and The Masculine Journey, former Professor at Dallas Theological Seminary, consultant to Kenyan military chaplains, and retired US Air Force Chaplain
As a pastor for over 35 years, it is a great joy to have The Divorce Dilemma as part of my ministry toolkit! I fully recommend it to Christ-followers everywhere, especially in Africa. To love Africa is to love her families, and to accompany them toward wholeness. Dr Motsi and Dr Misiko have done a splendid job equipping all of us to serve the African family better, which is often in the enemy's cross hairs. —Rev Moss Ntlha, General Secretary of the Evangelical Alliance of South Africa