COMING SOON
I'd Rather Die on the High Ground
Gripping Stories of Triumph Over the Power of Darkness and Persecution from a Nigerian Mission Field
"Are you afraid to die for your faith?" She answered, "No! It is better to die on a higher ground than to die in the valley."
I'd Rather Die on the High Ground contains the gripping stories of newly-converted Christians in Northern Nigeria. This book testifies to their incredible faith in the face of great opposition and to the amazing miracles of the all-powerful God.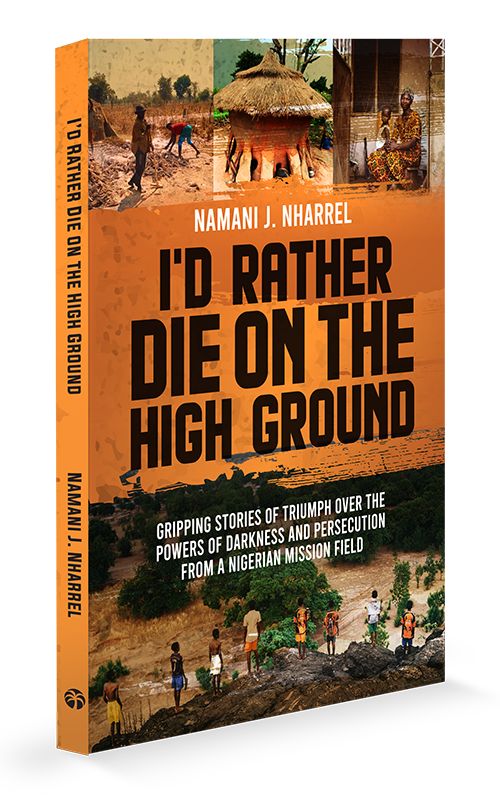 "Are you afraid to die for your faith?"
She answered, "No! Let the persecutors come and do their worst. After all, it is better to die on a higher ground than to die in the valley."
As a missionary to the Kamuku people in Northwestern Nigeria in the '90s, I thought I was bringing the gospel to villages in the darkness of sin and idolatry. But the new believers' faith challenged me!
I witnessed God's power to transform lives: women burned their idols, demons were cast out, and sick people were healed. Poisoned, under spiritual attack, and disowned by their families, they boldly exposed the falsehood of their former ancestral worship. And God gave them miraculous victory!
Even today, as they suffer kidnapping and terrorism that has put their remote region in the global news, these believers stand strong in their faith.
As you read the short stories of these ordinary believers and the accompanying biblical reflections in I'd Rather Die on the High Ground, you'll be blown away by our extraordinary God. Be inspired to pray with daring faith in our almighty God and to proclaim his deeds among the nations.
Since 1995, Nigerian Namani J. Nharrel has been a missionary with Calvary Ministries (CAPRO), a faith mission agency that plants churches among unreached people groups in 38 countries. I'd Rather Die on the High Ground is based on his work among the Kamuku people in Northwestern Nigeria. He has also served as the Principal of the CAPRO School of Mission (Hausa version), Zonal Director of CAPRO Northeast, as well as in mission research and Bible translation. He is the author of 12 other books.
There is hardly any more urgent path to take in the world today than the one Nharrel and his family have taken: the path of wholehearted obedience to God in missionary service among the unreached and least reached. He models for the reader what it means to give one's life over wholly to a missionary calling yet feel all the while abundantly blessed. If it were not for pioneer missionaries like him, who obey God's call to go where Christ is least known or unknown, then my own family would still be living in darkness. These are also stories of prayer, the glowing ember that is always found at the core of all mission impact, and the engine behind all mission endeavours. May the Lord of the Harvest use these remarkable tales to call more into his harvest fields! —Dr Joshua Bogunjoko, International Director of SIM
This collection of stories educates, inspires, and challenges the reader. Often, we learn best through stories like these frontline accounts from the field. Told from the perspective of the emerging missionary force from the non-Western world, they are a foretaste of what we might expect in global missions. —Dr Ted Esler, President of Missio Nexus
Research often tells us statistics of how Christianity is growing rapidly in the continent of Africa. But how is God building his church on the continent? Through carefully narrated stories from Kamukuland, Nigeria, our brother Nharrel opens for us a small window to see the work of the Holy Spirit in Nigeria and in Africa. These stories sounded like they were written about the rural village where I was born and raised in Ethiopia. You will be intrigued by the faith and faithfulness of missionaries and local believers to boldly proclaim the gospel no matter what. —Dr Bekele Shanko, Global Vice President of Campus Crusade for Christ, President of GACX (a global alliance for church multiplication)
The book calls our attention to God's awesome power to rescue a people group from bondage to ancestral worship, traditions, cultural practices, and the wicked spirits and evil gods that had held them captive for many years. What can be more convincing of genuine transformation than the fact that some characters in these stories are now themselves missionaries to other people groups? This book is a timely message to the church, especially people who are ashamed of the gospel because they have not yet seen it as "the power of God at work, saving everyone who believes" (Romans 1:16). Well-written, precise, and very practical, this book does not present a set of doctrines or theories on how to do evangelism and church planting, but Nharrel's life experiences on the mission field. The book presents testimonies of God's power to provide, heal, deliver from demonic forces, miraculously answer prayers, and defend those who depend on him. The book is a must-read for all serving missionaries and missions and church administrators, and a great asset for pastors, teachers, and all Christians. —Prof Ezekiel Oluyemi Odebunmi, Former National Chairman of Calvary Ministries (CAPRO) Nigeria, Professor of Chemistry at University of Ilorin
Concise, simple, and deeply insightful, this book is a faith-induced spiritual goldmine. These stories are proof that God can do extraordinary things through and among ordinary people. Simple prayers offered in faith bring about life-changing results. We sometimes forget this as we get carried away by big grammar, logic, and showmanship. A guide for anyone looking to grow their faith in Christ, this book also offers revival and renewal for those who have become faint in their walk with God. Reflections and thought-provoking questions at the end of each chapter make the book a valuable resource for deeper Scripture engagement. The transformative power of the gospel is captured in this powerful reminder: God is still in the business of performing miracles for his glory through obedient missionaries. In times like these when Christians are faced with persecution in Nigeria and around the world, this book should be welcomed with two hands and an obedient heart! —Rev Dr Gideon Para-Mallam, Global Mission Leader and Peace Advocate in Jos, Nigeria
Three things stand out as I reflect on these stories of God's power, faithfulness, and grace in Kamukuland. First, church planting is not a routine or programmed process. Among peoples who have been held in bondage by the evil one for centuries, the words of the gospel have been accompanied by power (1 Thessalonians 1:5). God's Spirit sometimes works like the wind (John 3:8) in people's hearts drawing them out of darkness into the Light. Other times, God's work is like leaven (Luke 13:20-21) in a community, transforming it over decades. When we look back, we are amazed at all he has done. And third, God is preparing the African church to take their place on the global stage as the next generation of Great Commission workers, taking the gospel to hard and hostile peoples and places, and re-evangelizing the West in the lands that sent missionaries to them in the first place! May it be so! —Dr Jerry Todd Lafferty, Executive VP of the International Mission Board
In his very readable but deeply insightful style, Nharrel takes us behind the curtain to see what a modern African's cross-cultural missionary life and work look like, and at the same time to challenge us to childlike faith. Thanks, my "running mate" for how you serve the church with your writing gift. I pray I catch up soon. —Chimezie Onyebilanma, former National Director of Calvary Ministries (CAPRO) South Africa, host of "Chim's Talk Africa" on Trinity Broadcasting Network
The message of Jesus has always been carried by testimonies. We've experienced his authority over sickness, demons, sin, divorce, snakes, poison, and our greatest enemy death, and we want to tell the world about it! These things show that God is with us and all authority in heaven and earth has been given to him – and people everywhere in Jerusalem, Judea, Samaria, Kamukuland, Europe, America, and the "ends of the earth" should recognize him as King. These stories from Kamukuland are told here by a master storyteller and expert writer. Read them to your family and friends and be inspired to see the great things that the Lord can do among us if we will only trust him. —Prof Andy Warren-Rothlin, Translation Consultant for United Bible Societies Switzerland
This book stands in its own class. It is a compilation of true stories from the mission field, but ultimately, it is not about the author, his team, nor the church in Kamukuland. It is about our God. It bears incredible evidence that our God is real, alive, ever faithful, a mighty man of battle, and has all the powers in heaven and on earth. He has given Nharrel the grace to write this book for the glory of his name, the edification of believers, and the strengthening of his church. I commend this book to all believers, trusting in the Holy Spirit's power to transform our lives as we meditate on the heart-thrilling synopsis of God's mighty acts. —Prof Adesegun Fatusi, Vice Chancellor of the University of Medical Sciences, Ondo, Nigeria
These stories may seem like fairy tales, but they are real. For instance, I was personally involved in the encounter with the Kamuku gods, which may seem exaggerated, but not even half of what transpired has been captured. Read this book and you will come to know that little faith exercised in prayer to God through Jesus Christ changes situations. —Rev Samson D. Mancha, Former CAPRO Missionary Colleague, now Pastor and Lecturer with Church of Christ in Nations (COCIN)
This is one of the most open, honest, and truly earnest books that you can read to encourage your faith in Christ Jesus. The faith of these simple people, narrated in this book, moved mountains in their various communities. Read this exceptional masterpiece and your life will not remain the same. —Dr Mary Erasmus Sulai, Associate Professor at Gombe State University, Nigeria
Such an enriching and fascinating read. —Yetunde Omodia, Missionary and Former Missionary Colleague in Kamukuland